BEC was approached by the UK Department of International Trade in relation to supporting companies from Latin America who were looking to explore & expand their businesses into the UK market.
Part-1 was the creation of a one-day intensive programme that would cover essential topics in relation to exploring entering new markets internationally with a particular focus on entering the UK.
Part-2 of Accelerate UK was a venture showcase event which would allow the participating businesses to have an opportunity to present & pitch their business.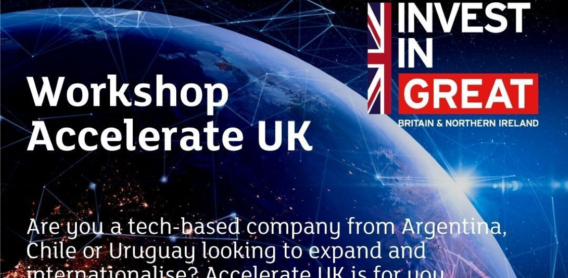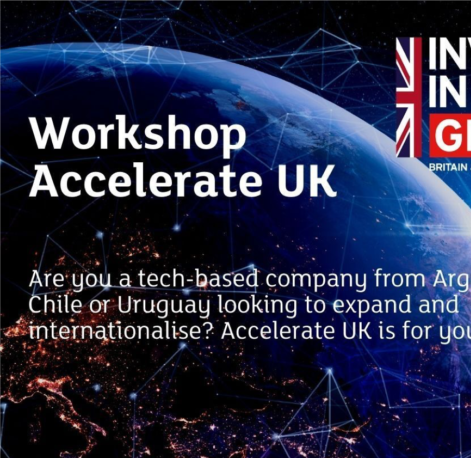 In specific the DIT wanted to support businesses from Argentina, Chile & Uruguay. In response to the DIT's requirements, BEC created a 2-part solution that would help the selected businesses to not only gain the knowledge they need in relation to the UK market but also gain exposure to potential partners, investors and other opportunities.
Session 1 - Doing
Business in the UK
During this session you will learn the things you need to know when setting up a business in the UK including company registration, visa options, finding talent & support, accessing partners and understanding the different parts of the UK ecosystem.
As well as hearing a series of 'lightning talks' from experts on the above topics, you will also hear from a panel of international entrepreneurs on their experiences of setting up a business in the UK.
Session 2 - Examining Opportunities & Running an International Business
In this two part session we will start by looking at what you can do to decide if the UK is the right market for you by conducting a market analysis to examine the opportunity.
In the second part we will explore how to manage the challenges of expanding internationally - having to run a business in multiple countries.
Session 3 - Getting Investment in the UK
During this session we will be exploring what the investment environment looks like in the UK including where you can find investors, how to develop relationships with potential investors and most importantly how UK Government tax incentive schemes for investors like SEIS & EIS work which increase a businesses chances of successfully gaining investment in the UK. Additionally, we will also share tips on maximising your investability as a business.
Session 4 - Perfecting your Pitch
Whether seeking investment, applying to accelerators or trying to land important strategic partners, every business needs a strong pitch that is able to communicate exactly what the business is about, where it is going & what it needs to get there.
In this final session we will help you to build the perfect pitch both in terms of creating a strong pitch deck but also delivering an impactful verbal presentation that comes together to create the perfect pitch.
What participants have said
"Accelerate UK 2022 was a great place to be. Sharing thoughs with other competitors, receiving tips from UK VCs or entrepreuners, very helpful for our Deck construction and business planning. Thanks for giving us this chance."


"Accelerate UK gave us the opportunity to learn important lessons from VCs and ask them questions you don't always have the opportunity to ask in a personal one-to-one talk. Despite having prior knowledge of pitching and venture capital, we gained insights regarding how investors choose their portfolio companies, and the do's and don'ts of pitching. It was a great learning opportunity."


Co-Founder and Data Engineering Lead,
Merovingian Data